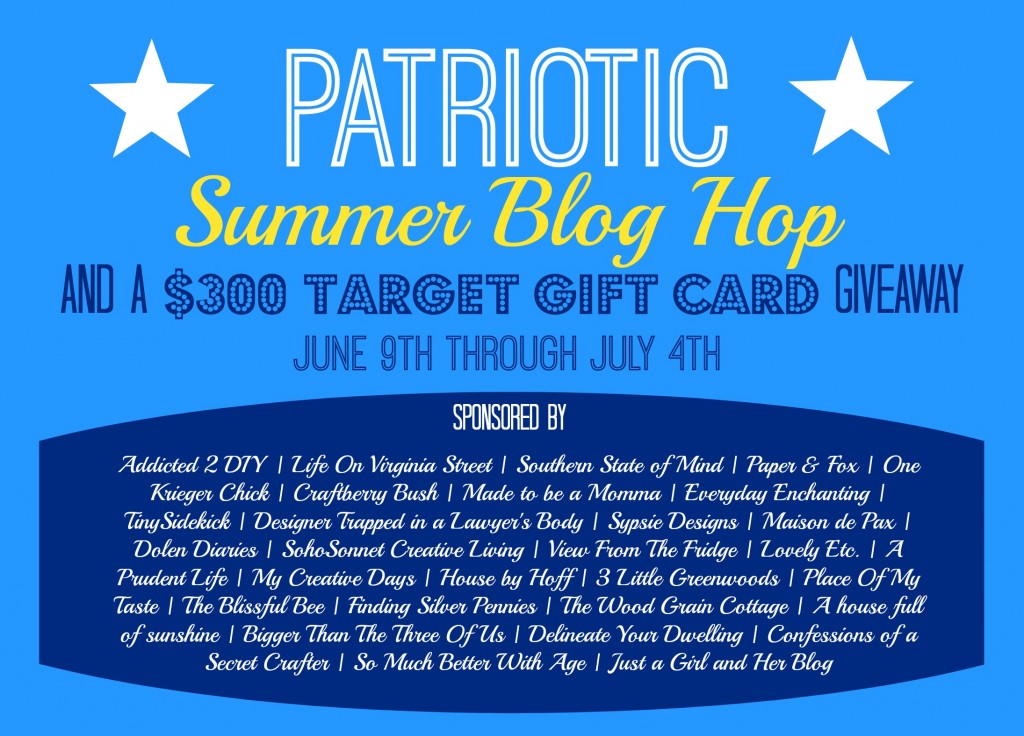 This is pretty exciting, you guys. I feel like the nerdy kid who's been picked out to be on the cool people's team. Not only will you notice my little blog name in the awesome line-up above (can you see it? Can you see it? Eeeee!) but I also get to offer you, my amazing readers, the opportunity to win a $300 Target gift Card.
Yep, I have joined up with more than 30 AMAZING bloggers for one truly epic Blog Hop. We have been given the task of creating a project or recipe in honour of the 4th of July, without using the traditional red, white and blue color scheme!
For the half of my readership who are American, I feel tickled that I actually get the chance to join your party. Woohoo! For my awesome Aussie readers, I'm looking forward to doing something totally fun and different for an occasion that we normally don't get the chance to celebrate. For the next four weeks, all 30+ projects will be shared on some of the most awesome blogs around. I can't wait to see all of the inspirational projects and hope YOU will find some inspiration as well.
But we aren't stopping there! To celebrate the 4th of July, we want to give you more than just creative inspiration. We want to give one lucky reader a $300 Target Gift Card! The giveaway will end on July 4, 2014 at 11:59 pm. But why wait to enter? Do it now! If you haven't entered a Rafflecopter giveaway before, a quick tip – you will get additional entries for each blogger you follow on their social media platform of choice. You can do it all through the widget below – it's a fast and easy way to accumulate multiple entries. Best of luck!
Now, before you head out, be sure to head over to Addicted 2 DIY to check out our first inspiring project from the amazing Katie! And the line-up for the rest of the week includes Life on Virginia Street, Southern State of Mind, Paper & Fox and Designer Trapped in a Lawyer's Body. Be sure to check their blogs throughout the week to see their amazing projects.
My project will be up in the final week of the blog hop, so you have a little while to wait, but lots of inspiration from some other fabulously talented ladies in the meantime.
P.S. SO many exciting things going down around here lately. Is this my exciting secret I've been hinting at infuriatingly for weeks? NO! It's not! I mean, it's completely awesome, but it's not THE secret. There's something else still to come. The plot thickens… 🙂