You may remember me mentioning recently that I'm part of something pretty cool. I've joined up with more than 30 AMAZING bloggers to tackle the challenge of creating a patriotic project or recipe without using the traditional red, white and blue color scheme! Starting three weeks ago and running through July 4th, more than 30 projects have been shared on some of the most awesome blogs around. I've really enjoyed checking out all the projects and hope YOU will find some inspiration as well. And now – it's time to share what I've been up to for this challenge!

And yes – it WAS a challenge. Would you believe me when I say that when I signed up for this, I had NO IDEA it was a 4th of July thing? I just got asked to be part of a "blog hop". And said yes. And signed my name on the dotted line. And THEN found out (quite a bit down the track) what the deal-io actually was.


Coming up with a 4th of July project is a challenge when you happen to be Australian. (Minor detail, right?) Luckily, I have a long-running obsession with star motifs for kids' bedrooms. So I knew that I could pull off something with an American patriotic vibe that I would also be happy to display for keeps in my son's room. I actually love the classic North American aesthetic and have quite a "thing" for Hamptons style. I'd already been mulling around with the idea of some star motif wall art for Jaxon's room – and this gave me the kick up the rear that I needed to make it happen!



I started by purchasing some rough pine fence palings from Masters. At $1.73 for 1.8m, they came in waaaaaay cheaper than the dressed and sanded version. Total cost for five lengths of timber? $8.65. I liked the rough, neglected feel, very similar to old pallets (which you could also use for this project if you have any handy). I had the palings cut in half at Masters to create ten x 900mm lengths.
1. Assemble lengths of timber to create a rough square. I'd had my palings cut to 900mm long, and they were each meant to be 100mm wide, meaning I should've been able to use 9 palings to create a perfect 900 x 900 square. Actually, as it turned out there was quite a bit of variation in the widths, and with 9 palings my square was higher than it was wide, and looked too top-heavy, so I removed one paling. It looked more "right" that way, even though it's not a perfect square.
2. Screw two more palings onto the back of the square to hold all the pieces together. Be sure you choose a screw long enough to embed firmly in both layers of wood, but not so long it pierces through the front of your artwork. I used a pen to mark the correct depth on my drill bit when pre-drilling the holes, so I didn't drill right through. (There's probably a more technical way to do that, right?)
3. I used Minwax Express colour wiping stain in walnut, but on my test samples, I didn't like how it went on thick and opaque like paint. It completely covered the grain, and because the timber I used was so rough, it did not wipe off effectively either. So I chose to water it down and apply more coats, building up transparent layers to get the same richness of colour. I used about 1/4 stain to 3/4 water, and applied three coats in total.
4. Next, I applied a wash of watered-down grey paint for a weathered effect. I used some leftover Dulux "Timeless Grey" with a mix of about half paint, half water. I swiped this on unevenly, allowing the stained timber to show through quite a lot. I also went back over using a dry-brushing technique and a stronger concentration of the paint in places. The trick here is not to over-think it! Just whack it on.
5. I created my oversized star template in Microsoft Word. First, I set the document size to 500 x 500, which was the actual dimension I wanted my star to be.
Then, because I only have an A4 printer, and this shape was well outside the printable area, I copied and dragged the shape into a separate A4 sized document, which had the effect of cropping the star into a printable-sized portion without altering its dimensions. I repeated this for each section of the star.
I then printed out my star piece by piece, and re-assembled the sections, as you can see below.
6. Tape around the star, and remove the paper template. I thought I'd try something new, so I used "FrogTape" (From Masters.) The little blurb on the back of the packet suckered me in: "FrogTape is the only tape treated with PaintBlock technology. PaintBlock is a super-absorbent polymer which reacts with latex paint and instantly gels to form a micro-barrier that seals the edges of the tape, preventing paint bleed. The result: Very sharp paint lines!" Hey, sounds fancy. I'm all for super-absorbent polymers and micro-barriers if they mean no bleeding paint. Would the super-tape work? Only one way to find out!
7. Apply an undercoat to the star. I went with a mint colour, so I could later sand back my top layer and have some colour peeking through. I used a custom mix of paints that I had leftover from other projects. I also took a deep breath and dry-brushed some mint paint on the background. Just ignore the patchy awfulness: sometimes things have to look worse before they look better. (Incidentally, I'm hoping that will prove true of other things in general, such as, oh, my face.) Anyhow, unlike the ageing process, this is all pre-meditated – there's another step to come here. It's all part of building up depth and texture, one layer at a time.
8a. Paint the star white.
8b. Leave the garage for 5 minutes to go to the toilet, and come back to find THIS.
To wrap up, I thought I'd style my star wall art is if for a celebratory gathering. If you're one of my readers who celebrates the 4th of July, I wish you the happiest of holidays!
And if you're on Pinterest – a special pin for you! This has turned out to be quite an in-depth tutorial, so I've created a less holiday-focused pin that won't be out of date in three days' time. My star art is going to end up in my boy's bedroom, after all!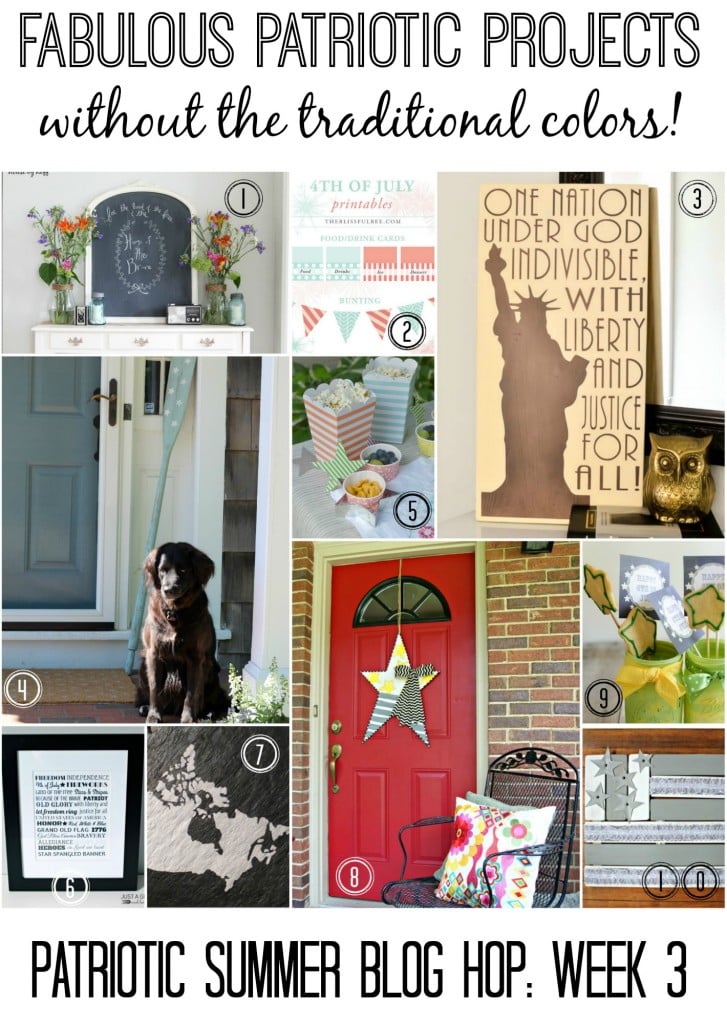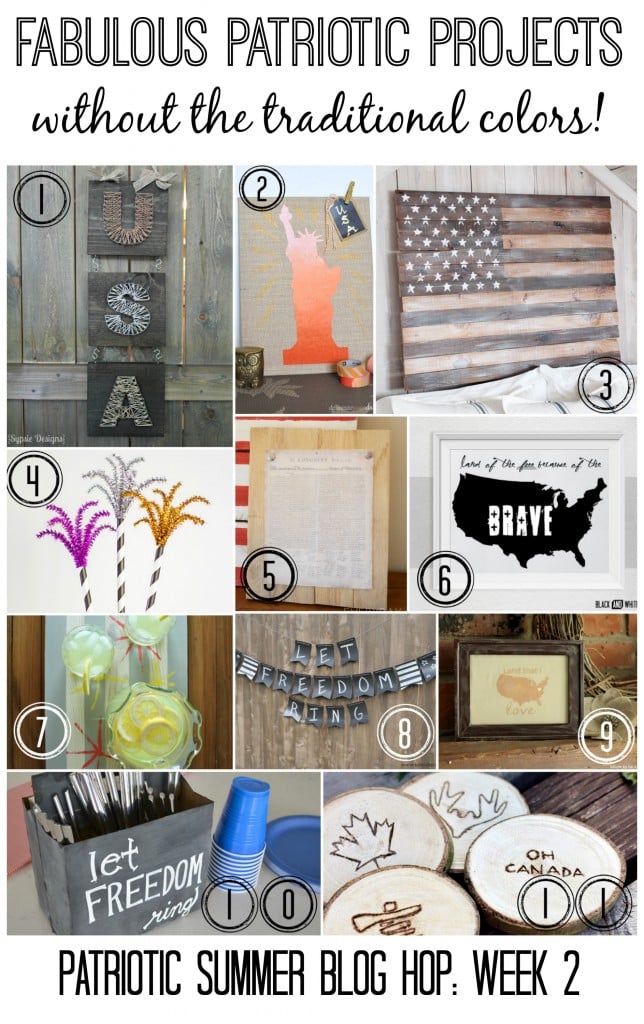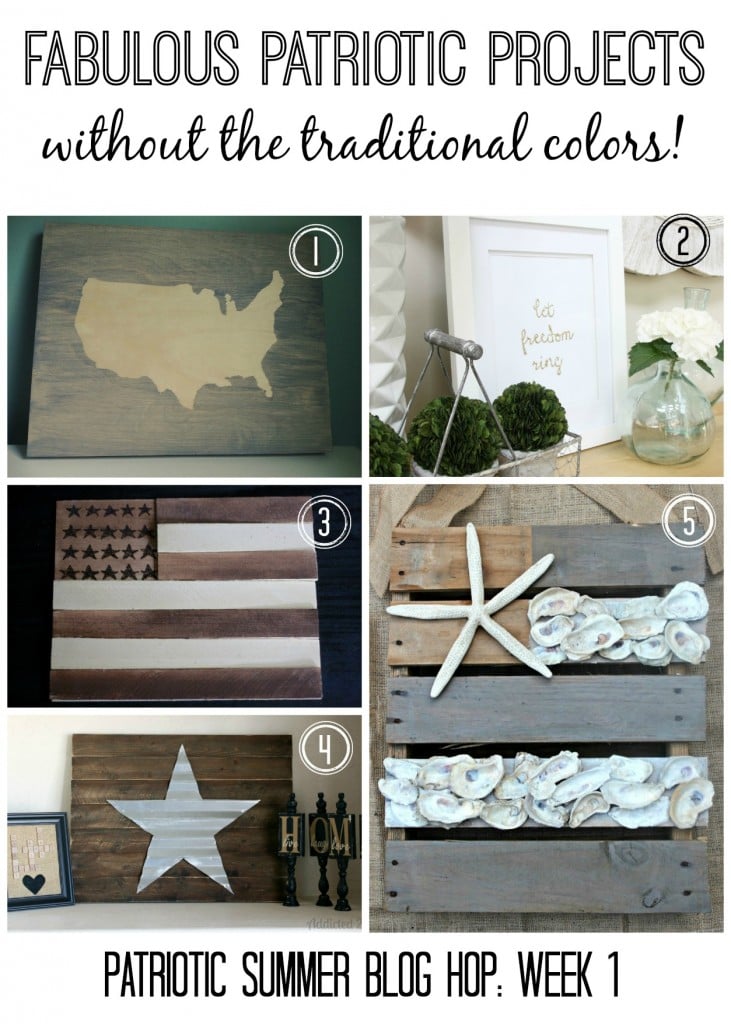 1. USA Map by Paper & Fox
2. Let Freedom Ring Gold Art by Life on Virginia Street
3. Wood Shim Flag by Designer Trapped in a Lawyer's Body
4. Corrugated Metal Star Art by Addicted 2 DIY
5. Neutral Nautical Pallet Flag by Southern State of Mind
I'm linking up here: Hit me with your best shot, Enchanting Inspiration