My goodness. Can anyone say "CRAZY WEEK"?!
In my last post I mentioned that I have a book called "The 7-Day Room Makeover" releasing at the end of this month. (See a sneak peek of the gorgeous cover here!) I also mentioned that I was going to undertake my very own 7-day room makeover, just to whet your appetite for the book's release. My plan: to take my bland and drab maser bedroom and transform it into an oasis of serenity and beauty.
Now, making over a room in a week is one thing. I do believe this is a realistic goal, as I will show you in my book. BUT throw in four little kids, four entire days away at a blogging conference, plus an ambitious goal to document the entire transformation on video (involving four separate and quite time-consuming shoots) and you have a whole new level of crazy.
And yes, if you do the maths, that leaves just three days out of the week in which I was actually at home to pull this makeover off.
Exactly one week ago, my master bedroom literally looked like this:
It was the ugliest, plainest and most boring master bedroom I have ever inhabited, let alone put up with for, hmmm, going on two years now. It's also the first time I've lived with furniture I didn't choose (it came with the holiday rental when we moved in). While the furniture itself is inoffensive, it's also very drab, very brown, and very matchy-matchy. I have never in my life purchased a matching bedroom suite and I never will, so help me God. The room came complete with vanilla walls so boring that at least they aided me in falling asleep each night, and a chocolate brown polypropylene carpet which has to be some kind of crime against humanity's love of beauty. You will also notice the security screens on the windows that make the room resemble a jail cell, and the charming view of the next-door-neighbour's VERY close house.
Not exactly an oasis of serenity. In short, it was high time something was done about this room.
I was ready to do this thang. As serendipity would have it, my plans coincided with an invitation to participate in a before-and-after edition blog hop. There's nothing like setting yourself an immovable deadline to get something done. Perfect!
So, if you're coming here from Cassie Bustamante's blog, welcome! Thank you so much to Casa Watkins Living for hosting this hop. I hope after you finish reading about my Master bedroom makeover, you'll enjoy browsing through all the other amazing transformations listed at the end of this post. There's nothing I love quite so much as a good before-and-after room reveal. These bloggers have such a range of delightful styles, and their rooms are seriously drop-dead gorgeous.
But enough chatter. I know you want to see the eye candy. So come on in to my transformed Master bedroom and take a look around.
As you walk into the room, the first show-stopping difference you'll notice is that gorgeous aquamarine wallpaper which I've featured on the wall behind the bed. It's by Quercus & Co, and I hate to say this because I know you're all going to want to buy it IMMEDIATELY, but it is only available to the trade. That means I could buy it because I'm a decorator, but the general public can only purchase this through an interior decorator, architect or wallpaper installer. I know that's frustrating if your budget doesn't run to hiring trades. (If it makes you feel better, I spent six hours of my life installing that wallpaper and was sore for days afterward from stepping up and down off a ladder and keeping my arms in an upraised position.)
The next difference that may strike the astute observer is that I'm no longer the sad owner of a matchy-matchy brown bedroom suite. I revamped the bedside tables using white chalk paint, and painted the black handles gold. Now I'm loving the contrast. It feels so much fresher and lighter.
The bedding also underwent a do-over. I wanted to create a light and airy room, so that meant out with the heavy navy stripes, and in with crisp white bedding with a hint of touch-me texture.
I have an incurable addiction for cushions, so of course this was a great excuse to go a little cushion-crazy. Keeping with the aqua and white palette, I mixed large and small scale patterns and solids. When offset against crisp white it is so fresh and inviting.
I added an upholstered bench at the end of the bed. No more doona puddled on the ground in a big tangle whenever we kick off the covers! As well as being a tidy place to lay folded bedding, a bench really finishes a room and makes such a visual impact.
I'm loving the nailhead trim detailing… and doesn't she have sexy legs?!
Let's talk bedside table styling. I added some curvy glass lamps on either side of the bed.
I'm loving the feminine feel of the carved wooden mirror frame. It was a Target bargain that I've had for a few years now.
A mother-of-pearl tealight holder keeps things simple and pretty on this side.
On the other side of the bed, a print in a white frame grounds the collection of decor accessories.
I added long, sheer white curtains at the window, hung tall and wide so they cover virtually the whole side wall of the bedroom. I now keep these permanently drawn, as they do such a lovely job of letting daylight pour into the room, while softly filtering the ugly view of the security screen and the next-door-neighbour's wall. (There's also a roller blind underneath for block-out and privacy at night.)
Watching the curtains billow and flirt in the breeze is exceptionally calming, and makes me feel like I've stumbled into a resort or a day spa. The white sheers add so much softness to the room.
Let's talk texture. A key element of my relaxed coastal style is natural fibres. I've used a large sisal rug in this room, which does a fine job of covering up that truly ugly brown carpet.
To add softness, I layered a sheepskin fleece over top.
The previously blank and uninspired white wall next to the bed is now home to a gallery of artworks in calming hues.
I love art and it's something we always try to collect when we travel, as it's easy to ship home and makes an amazing keepsake. The print at the top left was purchased at a little gallery in Denmark, while the painting below right was bought from a street artist in Spain. The large leaf print on the left is by an artist friend.
And because original large-scale artwork can be pretty expensive, I've mixed it up with a very affordable print on canvas in the centre, purchased from an online homewares store that runs weekly flash sales.
I hope you've enjoyed this tour through my Master bedroom makeover! Don't forget that this was all done in just three days – installing wallpaper, painting bedside tables, framing and hanging artwork, shopping for new bedding and accessorising the room. While I wouldn't recommend doing it in three days myself, it just goes to show what's possible with a bit of determination (and a deadline!)
If you want to achieve similar fast results in your home, make sure you sign up for my FREE e-course – "How to Decorate", in which I break down the decorating process into simple steps that anyone can do, regardless of whether you have any decorating experience or not.
And of course, don't forget to take a browse through these other beautiful homes!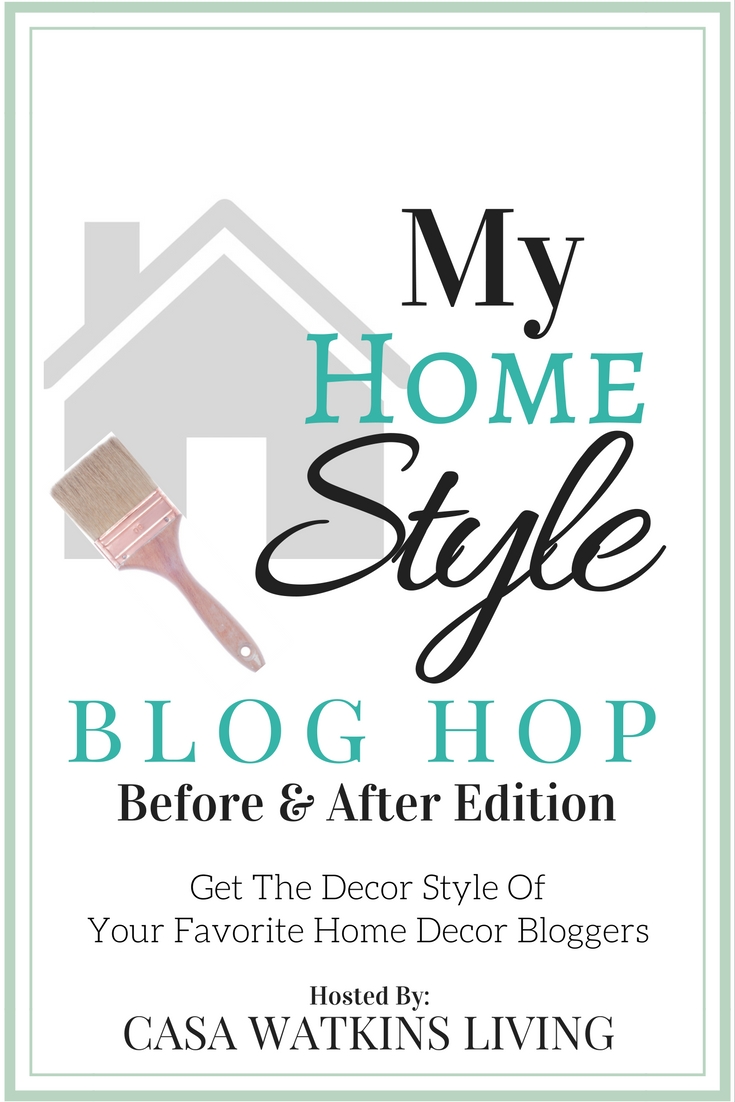 MONDAY
TUESDAY
WEDNESDAY
THURSDAY
FRIDAY
Linked up at these parties this week!